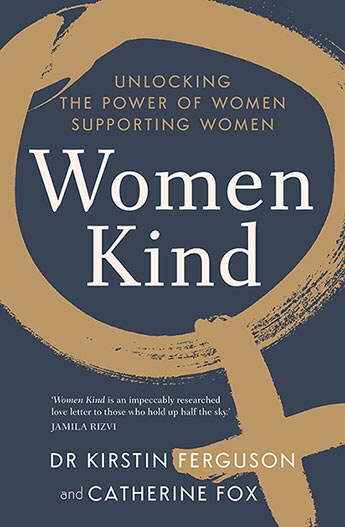 Big things happen when women get fed up, and take action.
Dr Kirstin Ferguson, the creator of the #CelebratingWomen campaign, was at the beach on the Christmas holidays almost two years ago and was angry and upset at the vile comments and vitriol that were continually directed at women online, especially her female ABC colleagues. Women who are the targets of abuse online are told to ignore, mute, report, block – and all these things certainly have their place – but Ferguson wanted to try change the tone as well, and so, as women often do, she channeled her anger into action, and the #CelebratingWomen movement was born.
Throughout 2017, the profiles of two women were shared daily. Social media was awash with celebration, to try to drown out the denigration. By the end of the year, 757 women from 37 countries had been celebrated and made visible as role models to others. The group of women was incredibly diverse. It was joyous to look each day to see who it was going to be, as was the experience of being profiled myself. Often the profiled woman was a public figure I recognised easily, many times it wasn't, and I truly value the connections that I made through #CelebratingWomen. I really noticed the absence once 2018 rolled around and I would go to check who it was that day, and then remember that there were no more posts!
Women from all walks of life were profiled – students, communicators, environmentalists, financial advisors, stay at home mothers, stay at home grandmothers, cricket commentators, advisors, journalists, politicians, cancer warriors, chefs, volunteers, businesswomen, writers, doctors, musicians, pharmacists, lawyers, safety experts, community workers, futurists, farmers, playwrights, aid workers, public servants, chairwomen, counsellors, advocates, scientists, publishers, librarians, producers, paramedics, researchers, servicewomen, sportswomen, car dealers, pilots, speakers, board members, real estate agents, artists, DJs, broadcasters, actors, brewers, social workers, retirees, psychologists, dancers, veterinarians, beauty therapists, nutritionists, designers, directors, authors, artists, horticulturists, nurses, Olympians, editors, academics, coaches, dentists, lecturers, retailers, and so many more.
It was actually quite hard for me to write that list of occupations, because women were specifically asked to describe the tasks that they actually did for whatever they considered their 'work', not their job titles or positions. Each woman self nominated and answered the same four questions and provided four photos – a description of what you do, what you wanted to do when you were young, to describe your life in three words, and who you hoped to inspire. There was no criteria (beyond identifying as a woman) and no vetting or selection process. Each women was introduced just as her first name, with no titles or qualifiers, and then her own words about herself.
Surprisingly, the #CelebratingWomen campaign attracted almost no negative or abusive comments, which was paradoxical when it was happening in the same, often toxic, social media space which had initially spawned the whole campaign. Instead, it was a ray of sunlight. In amongst all the tweets about how the world it on fire and everything is awful, the power of kindness and women raising each other up gave overwhelming respite and happiness.
Ferguson teamed up with Catherine Fox (author of Stop Fixing Women) to write Women Kind, released by Murdoch Books last month. Backed by scrupulous research, they explored the #CelebratingWomen phenomenon more closely, and looked at what happens when women support each other. Women Kind blows the 'Queen Bee' idea out of the water and is full of first hand accounts and practical examples of what leaders, organisation and individuals of all genders can do to support women for the benefit of all.
Just like the girls who crashed their brothers' Boy Scout Rally at Crystal Palace, the women who have fixed a problem for a workmate who was sobbing in the toilets, the tsunami of women who shouted #MeToo, those who take to the streets time and time again to protest injustice and refuse to accept the substandard hand they have been dealt, #CelebratingWomen and Women Kind show the power and change that comes from women helping each other and taking action.