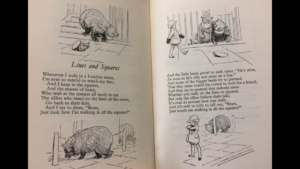 By Elizabeth Saunders with apologies to Alan Alexander Milne
Whenever I walk down a Brisbane street,
I'm ever so careful to watch my feet
And I keep from the lines
Or it's double-up time.
Tactile paving is oft the worst to step on
No steps is best, or else two must be upon.
But no gait change allowed
(That counts as a step)
It must be all even among the crowd.
There are bears in my brain which make up the rules
I don't know what they are til I'm given the chills.
Driveways, usually, an even number of steps
Sticks, leaves and seedpods must be re-stepped.
Running's the worst,
(And with no headphone a curse.)
I halt on my jog – a utility cover.
I'll have to turn round and look for another
Route to get home but all paths are the same,
Too many parts to mimic and maim.
The bears growl to each other
Inside my brain
About the lines on the footpath
And the marks on the drain.
The masses of bears,
They see the germs too.
Telephones, lift buttons and eftpos devices
Handles and handshakes: unsanitary vices.
I do my hand washing and I use my hand gel,
The bears think I'm a silly
But I use hand wipes as well.
Some of the younger bears try to pretend
That it's all about footpaths
Or germs on one's skin.
But the bigger bears know that in the scariest lairs
They go beyond childhood games and cares
For deep down inside are the menacing bears.
The intrusive thoughts, those menacing bears,
They tear apart every one of your cares.
The worst thing you can think of,
Your boggart – that's you.
You "know" it's not true – but really, do you?
You might try to pretend to be someone's friend
Then hurt them somehow
Or whatever it is that you think is most foul.
The bears in your brain, they know that it's true
The worst of the worst – the bears tell you it's you.
It's ever so portant that you don't balk
As you try to believe your therapist's talk
And it's ever so frightful to beg out "Bears,
Stop the intrusive thoughts from the darkest of lairs!"