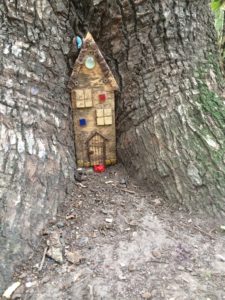 In the last few months or so I've noticed a curious and distinctive bunch of people when I go out for my afternoon bike ride or run.
I'm guessing at ages here – a ten year old kid was slowly riding his bike while half on, half off, in no distinct direction, but with definite purpose. Two young men sat in their cars, engines running, near the top of the bikepath. Half a dozen 12 year olds walked around the steps of the overpass with a teacher looking on – a boarding house outing I suspect. A young woman was slowly riding a fold up bike she must have purchased extremely recently, since the barcode label was still attached to the basket. Three 11 year olds had Macgyvered-up phone holders with duct tape and wood offcuts on their bikes for better screen visibility.  One very tall and obese man – tummy hanging out from under his shirt, cigarette balanced on his bottom lip, stood next to his svelte, dark haired companion, both staring at their phones. Two Grade Nine girls from the local rich private school in full uniform, including Panama hats and brown leather shoes, were on skateboards while holding golf umbrellas for the rain. A couple in their 20s, clad in active wear and cuddling, stood near the path. All were meandering, but constantly checking their phones, so I assume they were playing Pokemon Go. They were hunting the geocached pocket monsters – all around us, but visible only through the smartphone screen.
In the same park someone lovingly tends some fairy doors and fairy gardens. There is a little grove where the trees don't let much light through. It's dark and mossy like a rain forests. No bikes are allowed on that part of the path.
The fairy house are beautifully decorated. Miniature tea sets and flowers in tiny vases sit near the fairy doors, sprinkled with glitter. Minute framed pictures carefully hung on the tree add to the décor.
I've lived near this park for the better part of two decades. I've never seen anyone tending the fairy parties, and yet I can't remember them ever not being there. I've often thought about who is cultivating them, and why? They are never unkempt.
My hunch is that is that someone who has lost a child is tending the fairy gardens in memory of her little lost one. How many fairies, how many lost children, dwell among the greenery?
As well as invisible fairies, lost children and unseen pokemon exist around us, what other spectres concealed? Are the ghosts of all the choices we didn't make, floating amongst the trees? Are there diaphanous angels of abandoned dreams moving about unseen? If there was an app to find lost children and abandoned hopes, what would we see floating around us? Would we be able to Catch Them All?
Could we bear it, if we did?